Okay… Emma Johnson is an absolute rockstar. She is the girl behind the really
fun jewelry line Em John
and she just started her senior year of high school! Emma emailed me to tell me about her bracelets. I spent about four minutes on her website before I decided that I absolutely
had
to meet her. We met up recently to chat and I'm really excited to be sharing more about Emma and Em John with you today!
What's the story behind Em John?
I've always been obsessed with jewelry, especially bracelets, and I'm interested in entrepreneurship. So a year ago as I started thinking more seriously about college I wondered if I could start a business to generate enough revenue to pre-pay for my education. Almost overnight I started designing charms, I found a manufacturer, and I posted a few on Instagram. Friends instantly asked if they could buy them. When peers are willing to pay you cash, not just a compliment, you know you're onto something.
Do you have a mentor or someone who has helped guide you?
My mom is my best mentor. For 15 years she has been a small business owner and she does a segment every week on ABC's Good Morning America where she features products that she discovers. She has a great head for business and has helped me with everything from sourcing to pricing to pitching retailers. She is also my best friend and my biggest champion. She introduces me to other business owners who've also given me lots of advice and ideas. She doesn't think there's anything that I can't do, which really bolsters my confidence.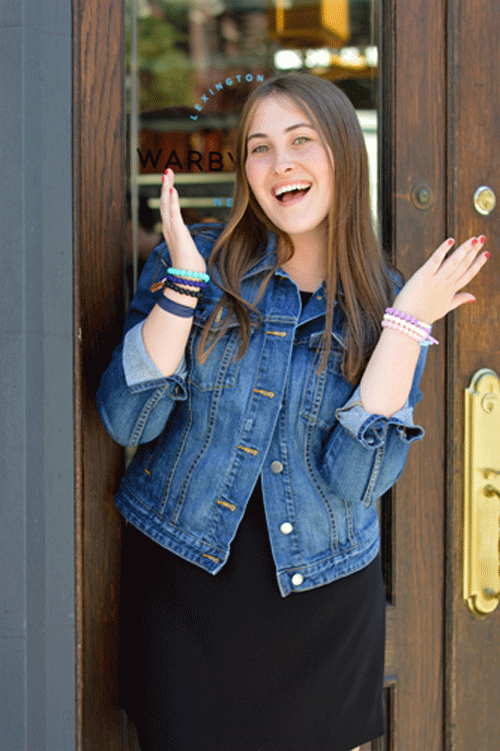 You're still in high school; how do you balance school work with growing your company?
After years of sleep-away camp and a community service trip to Ecuador, I chose to spend this past summer working exclusively on my business. I created good systems that I am hoping will help me during my all-important and highly-stressful senior year. I try to treat the business just like friends treat their commitment to sports or other extra curricular activities. It's not a chore or a burden. We all make time for what's important to us. Em John is extremely important to me.
Do you have advice for other girls who want to do the same?
I'd say don't over-think it. Just dive in. You won't know what works and what doesn't until you just start doing it. You can spend weeks and months plotting and planning, but there's nothing like reality. Also, a business only works if you can generate sales — otherwise it's a hobby. So learn early on to have confidence in your pricing and to ask for the sale.
What's one thing that happened that you didn't expect when you started Em John?
I never expected stores to find me. I was stunned the first time a store owner in New Jersey contacted me after seeing my stuff on Instagram. It really showed me the power of social media, not just for fun, but for business.
You've already seen great success with your jewelry line, what's your proudest moment?
I love when customers post photos wearing their Em Johns. Seeing my creation on their wrists always makes me smile. I'm especially proud that my first collaboration came from a request from Oprah Magazine to design an exclusive Em John bracelet for O's new Circle of Friends program and national tour. Seeing Oprah and Em John in the same sentence is pretty awesome for anyone, but especially for a 17 year old student.
How did you figure out how to get started?
I didn't think too much, which I think now was ideal. I just started playing with designs and posting them for feedback. People are very honest about what they love and what they don't. Customers have guided many of my decisions since then. If I had spent tons of time planning and not enough time getting it out there, I don't think it would have taken off. Too often we're scared to share our ideas because we think people will steal them. It's better to share them and hope that people care enough to pay attention.
Do you have any cool things coming up?
It's funny because everyone asks, what's next, what's next. The owner of a boutique in Chicago placed an order and called me when it arrived. She said, "I love it all…what's new, what's next?" I had to laugh and say, "Wait, it's only been five minutes—enjoy what you have and I promise to show you new stuff soon!" I knew the pressure was on. For fall I've created a line of neon emojis with wood beads. We usually use our signature rubber beads, so this is a big change. We'll also have special sets—stacks—for the holidays that celebrate life and love and luck. I can't wait!
Where do you get inspiration from?
My friends and my neighborhood. I live on the Upper West Side in New York City and there's color and cool stuff everywhere. Whether I'm walking my dog or FaceTiming with friends, I also spot things that lead me to think of cool charm designs.
Three fun facts about yourself:
I'm a twin! My brother Jake is my best friend.
I've been to 40 US states.
I'm obsessed with Essie nail polish! I own over 40 different colors.
What do you like to do for fun on the weekend?
Weekends are for fun and work. Since I've chosen to build this business, Em John is always a part of my weekends. Sometimes that means a trunk show at a cool store. I love getting fro yo or coffee with friends. Walking with my mom in Central Park—and getting manis, which we do together every Sunday. Shopping, of course. My family is very close, so hanging with my parents is a big part of my weekends too.
xoxo